Harvest Festival 2022, presented by the Thrall Community Education Foundation (TCEF), is scheduled for Saturday, Oct. 22 at Thrall ISD. Join us for all of the delicious food, fun activities and traditions!
Schedule of Events:
Turkey & Dressing Dinner - 4:00 pm-6:30 pm
Catered by Thrall Country Diner
ES-MS Cafetorium
$15.00/plate
Please contact Ms. Korie Dutschmann regarding tickets
Silent Auction - 4:00 pm-7:00 pm
ES-MS Band Hall
Grade Level Theme Baskets include Christmas, Camping Adventure, Movie Night, Game Night, Sweet Tooth, Candles, Relaxing at Night, All About the Tigerettes, All About the Tigers, It's Fall Yall, Purple Out, Thrall Spirit, Baking, Fall in Love with Agriculture, Pet Basket, Fishing, Baked Goods, Block Party, Crock Pot and Utensils for Easy Meals and Bath & Body Works!
Other Silent Auction items will be available, too!
King & Queen Coronation Ceremony - 5:00 pm
MS Gym

Carnival Games - 5:15 pm-7:00 pm
*Ticket Sales and Booths will open after the King & Queen Coronation Ceremony is over.
Pavilion Area
Games include Cake Walks, Cookie Walk, Plinko, Corn Hole, Football Toss, Frisbee Toss, Soda Ring Toss, Bean Bag Toss, Wheel of Fortune, Lucky Numbers, Photo Booth, Bounce House, Pickin Up Pigs, Pigs in a Blanket, Hole in One, Hershey Kissing Booth, Petting Zoo and Tiger-lympics!

Other booths include Temporary Tattoos, Cotton Candy, Snow Cones and Nachos!
Raffle Ticket Winners Announced at 7:00 pm
Live Music by Angels Envy and All-in-All - 7:15 pm
HS Parking Lot
Sausage Wraps Available! Proceeds benefit Thrall FFA
Harvest Festival 2022 Court:
Kindergarten
King Turner Beckermann & Queen Sadie Vanecek
1st Grade
King Jacob Huisman & Queen Astin Gola
2nd Grade
King Luke Zycha & Queen Tinsley Cranston
3rd Grade
King Parker Moses & Queen Sophie Chapman
4th Grade
King AP Chavana & Queen Summer Valdez
5th Grade
King Blake Boysen & Queen McKayla Burns
6th Grade
King Ben Seggern & Queen Macie Eckhardt
7th Grade
Queen Lauren Jirasek
8th Grade
King Levi Randig & Queen Emery Niesen
9th Grade
King Aiden Wall & Queen Ashlie Kiel
10th Grade
King Brandon Jonas & Queen Trinity Roberson
11th Grade
King Michael Machala & Queen Avery Koonce
12th Grade
King Seth Cage & Queen Mia Moellenberg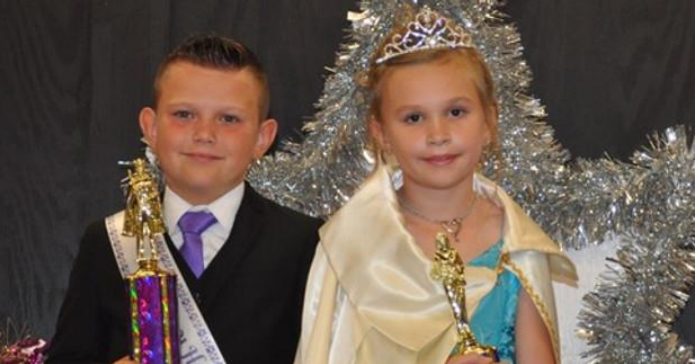 Harvest Festival 2021 King Easton Ford & Queen Allyson Zycha
Thrall Community Education Foundation is proud to report that Harvest Festival 2021 grossed $36,945.78 in raffle ticket sales and donations; $6,000.00 in sponsorships; and $8,687.00 in silent auction sales. TCEF warmly thanks all those that supported Harvest Festival 2021! Let's make Harvest Festival 2022 another successful fund raising effort in support of student scholarships for every Thrall HS graduate, classroom initiatives, and staff professional development.
The origins of the Harvest Festival date back to the 1920s. During the 1940s, Thrall Schools held Halloween Carnivals. Each class elected a Queen and raised money in a variety of ways, from coffee socials to bake sales.

In 2014, the Thrall Community Education Foundation (TCEF) brought the Harvest Festival back to the Thrall community. The student body at each grade level nominates a king and a queen candidate from their grade. With the help of their classmates, these candidates raise funds in a variety of ways from monetary donations from family members, raffle ticket sales, to proceeds from auction sales. The candidate couple raising the highest amount of funds are crowned Harvest Festival King and Queen at the coronation ceremony at the conclusion of the festival. All monies collected from Harvest Festival are deposited into the TCEF account. TCEF funding priorities are student scholarships, classroom initiatives, and professional development. TCEF is a 501(c)(3) organization.