November is National Diabetes Awareness Month, and Thrall High School students and staff wore Team Brandon shirts on Monday, Nov. 14 to support Brandon Ford, senior, and his endeavor to raise money and awareness through the Juvenile Diabetes Research Foundation (JDRF).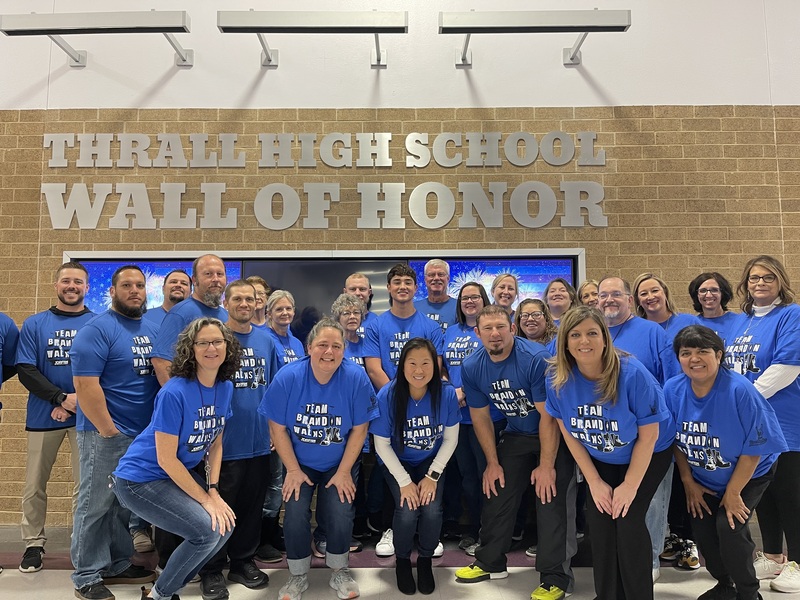 Brandon's Story:
On April 15, 2011, I was diagnosed with type 1 diabetes at the age of 5 1/2. I had no idea at the time how much my life would change from that day on. My family and I had a crash course at the hospital learning how to check my blood, getting shots and how to live day to day with Type 1. Our family was introduced to JDRF shortly after I was diagnosed by an aunt that worked for Aetna in San Antonio . JDRF was such a welcoming presence to me and my family because diabetes was so new to us. We participated in our first walk in 2011 and it was such a great experience for me because I got to see that I was not the only one that had this disease. Being in a small school like Thrall, there was no one else at the time in elementary that had Type 1 diabetes. Before the walk, I was embarrassed to check my blood or get a shot in public because people would stare at me like something was wrong with me. At that first walk, JDRF had everyone that had diabetes wear a blue bandana and as we were walking, I was on one of my cousins' shoulders, and I could see so many blue bandanas! This eased my mind to see that I am not alone fighting this disease. So many others are going through the same thing as me and it made me realize that I should not be embarrassed by my disease, but be proud that I am taking on this disease head on with the support of my family and friends.
This year was our 12th walk that Team Brandon has participated in and our team has raised over $200,000 since we started walking in 2011. In 2019, I was chosen as a Texas delegate to go to Washington DC to share my story of living with type 1 diabetes and urge our representatives to continue to support the Special Diabetes Act. I have been an ambassador for the South Central Texas chapter of JDRF and was one of the grand marshals at this year's walk with my other fellow ambassadors.. JDRF also had my band play at the walk and it was such an awesome experience to play in front of 4,000 people.
My team and I walk to support the millions of people that live with type 1 every day and help raise needed funds to find better treatments and one day a cure for type 1. JDRF and the walks are such a great support system for all diabetics and their families and everyone that walks has the same goal-to raise awareness about type 1, to help fund better treatments, and one day making Type 1, Type none. I have been an active advocate from day one since being diagnosed, and will continue to be one until a cure is found for this life threatening disease.
I am so thankful for my family, friends, and before I could manage my diabetes on my own, my school nurses, Lynn Crabb and Lisa McMurray. I am truly grateful for the support system I have and appreciate everyone who continues to support me and this great cause.